The Fonds Régnier pour la Création is committed to emerging photography and creates, in collaboration with Agence VU', a program of Photographic Mentoring aims to identify and accompany promising young authors in the development of their artistic practice and professional visibility.
Le Fonds Régnier pour la Création poursuit son engagement en faveur de la photographie émergente avec MP#02, deuxième édition de son Mentorat Photographique créé en collaboration avec l'Agence VU'. Ce programme inédit a pour ambition de repérer et d'accompagner de jeunes photographes prometteurs dans le développement de leur pratique artistique et de leur visibilité professionnelle.
/
Les photographes sélectionnés pour le MP#02 sont :
« Born in the many passionate discussions between amateurs and professionals, the Fonds Régnier pour la Création possesses both the means and the desire to act in the interest of budding authors. We wish to support their artistic approach while respecting their singularity and their independence, to help them get their talent recognized, and to encourage the emergence of creative dynamics. It is to respond, in a relevant way to this requirement for support both tangible and sustainable, that we havethought of this Photographic Mentoring with Agence VU' »
Laurence Régnier
President of Fonds Régnier pour la Création
« In the vast tumultuous ocean of images where our eyes are drowned, singular approaches sometimes emerge, driven by the desire to give meaning and attention to the intelligence of the eye. Distinguishing and contributing to the emergence of these original voices is the vocation of the Fonds Régnier pour la Création. The young authors it has chosen to support are in this disposition of desire and will, presenting themselves on the gateway of the world of photography, sometimes confused and always complex. This Photographic Mentoring program, developed in partnership with Agence VU', aims to help these young authors to cross this threshold. »
Xavier Soule
CEO of VU'–Groupe Abvent
MP#02 poursuit un triple objectif : accompagner le développement des projets personnels des auteurs sélectionnés, aiguiser leur compréhension du monde professionnel et leur donner des outils pour inscrire leur singularité dans le paysage de la création contemporaine.
Chaque photographe sélectionné(e) bénéficiera, sous la supervision de l'équipe de VU' d'un dispositif personnalisé et transdisciplinaire combinant accompagnement de projet par des photographes-mentors, consultations d'experts, participation à des formations du programme VU'Education, rencontres professionnelles, ateliers collectifs.
A l'issue des 9 mois d'accompagnement, un évènement présentera les projets réalisés qui révèleront ainsi leur talent au grand public et aux professionnels.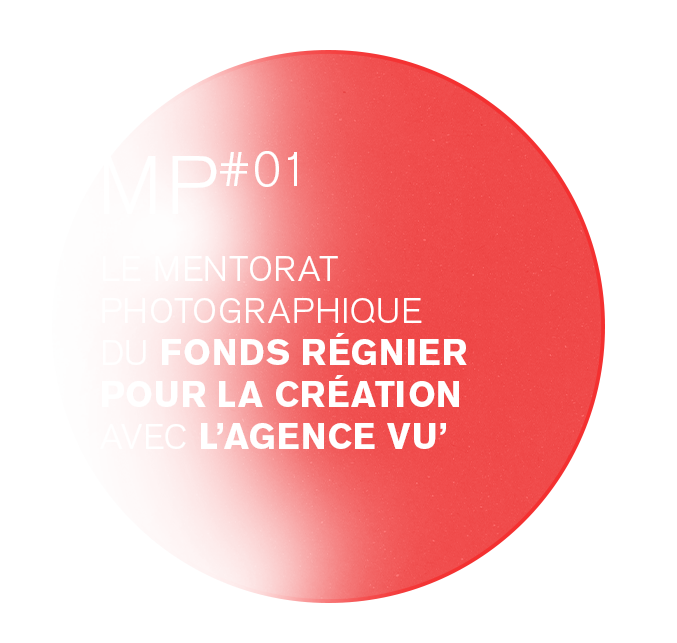 For the first edition of this mentoring program, the Fonds Régnier pour la Création and VU' have identified and selected: